Serving our Community is a very important aspect to the ministry of Calvary Chapel Central.  Please consider being a part of this ministry.
Thank you for your Support
We'd like to thank the following stores for their financial support of our "After School Program" at Ocotillo Elementry School:
Walmart Store #5330
Walmart Store #2213
Walmart Store #2632
Walmart Store #5190
2023 Good News Club
2023 Ocotillo Elementary School – Good News Club outreach.  Thank you to all who served Ocotillo School and a SPECIAL Thank You to Walmart Store # 5190 (Happy Valley & I-17) for their financial support so we could do this Good News Club.
2022 – Ocotillo Elementary School – Thanksgiving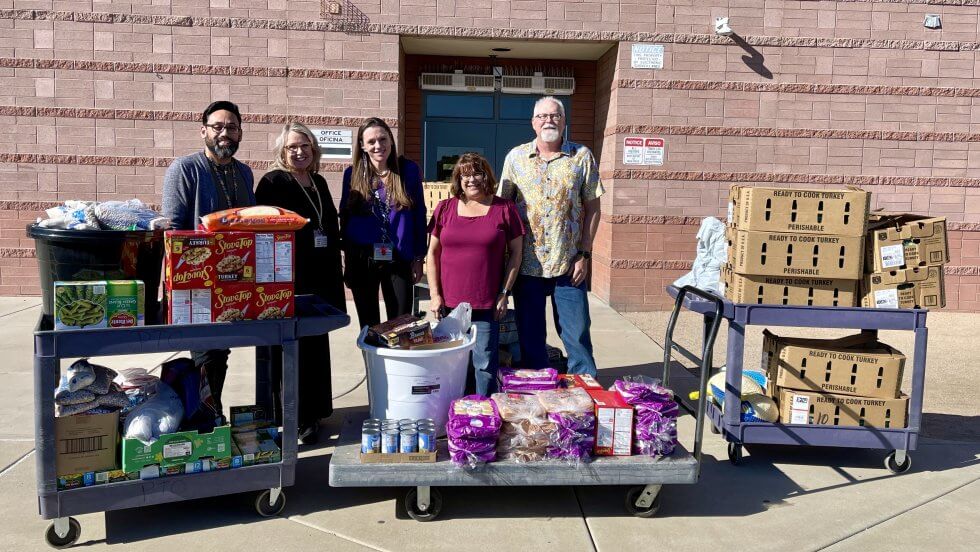 "Thank You" to all who donated to the 2022 Ocotillo Thanksgiving Drive.  May God bless you richly!
Special recognition and "Thank You" to Walmart Store #2113 and Smart & Final for their donations to help us provide Thanksgiving to Ocotillo Elementary.
2022 – Ocotillo Elementary School – Love Our School Day
From Aaron Medina (Staff at Ocotillo Elementary School)
Thank you all SO MUCH for today!!
We are so pleased with the turnout and everything we were able to accomplish during this event. Our hearts are so warm 😊
The members of Calvary Central are so kind and so helpful and we absolutely love that you all could come and show Ocotillo some TLC.
Click on photos to enlarge and scroll through them.
2019 – Ocotillo Elementary School Christmas Gift Drive
God is SO GOOD!  It was a true blessing to see how God worked this past Christmas providing gifts for so many children and parents at Ocotillo Elementary School.
We'd like to add a special thank you to the Walmart Facility #2113 on 16th Avenue and Bethany Home Road who also helped to make this possible for our Christmas and Thanksgiving Drives by their generous gift.
Thanking God and all those who gave!
2019 – Ocotillo Elementary School Thanksgiving Food Drive
Calvary Chapel Central Phoenix had $360 in gift cards/cash donated, besides food items  already dropped off prior to todays shopping trip.  The total bill came to $359.86.  God is SO Good!  
This year was the first time Central was able to provide pies, cool whip and extra packages of dinner rolls.
Thanking God and all those who gave!
2018 – Thanksgiving & Christmas
A special thank you to the Sam's Club Store #6608 on 15th Avenue and Bell Road for their $600 Community Grant to help us help Ocotillo out this past holiday season.
Click on the images below to open them up in a lightbox.
 Miscellaneous On-Going Needs for Ocotillo Elementary School:
Kids Toiletries – Shampoo, Conditioner, Body Wash, Loofah, Toothpaste, Hair Brush/Comb, Deodorant, Hair Ties/Clips.
Kids School Supplies – Backpacks, Crayons, Color Pencils, Markers, Composition Notebooks, Pencils, Pencil Sharpeners, Erasers, Glue Sticks, Scissors (Blunt & Sharp) and Rules.  Please, no Pens.
Kids Clothing – Jackets or Hoodies (Size 5 to Men's Extra Large), Basketball Shorts (size 5 to 8) and Leggings for Girls (Sizes 5 to 8)
Teacher/Family Miscellaneous – Tissue Boxes for Classroom, Laundry Supplies (Detergent, Dryer Sheets and Fabric Softener).
Bring items to the Sanctuary and place in the box by the Women's Ministry table.
Backpack Supplies Needed:
Backpacks for Boys & Girls
Pencils & Pencil Sharpeners
Rulers
Crayons & Colored Pencils
Glue Sticks
Child-friendly Scissors (rounded tip)
If you would rather give a cash gift toward the outreach, please pay in the Bookstore or send to the church office and needed items will be purchased and provided to the school.